10th Annual Production Sale, Friday 24th September 2021 1.00 pm
2020 Annual production Sale catalogue - PDF
2019 Annual production Sale catalogue - PDF
2018 Annual production Sale catalogue - PDF
2017 Annual production Sale catalogue - PDF
2016 Annual production Sale catalogue - PDF
2015 Annual production Sale catalogue - PDF
2014 Annual production Sale catalogue - PDF
2013 Annual Production Sale catalogue - PDF
Please contact Jeff Sutton or our agents
Border Leicester Rams and Ewes for sale
PURCHASING WATTLE FARM RAMS & EWES
Clients purchasing Wattle Farm Border Leicester rams, ewes and first cross ewes can do so with confidence knowing that they are securing quality sheep in a protected environment.
At Wattle Farm Borders, we undertake to guarantee the following:
Wattle Farm is a registered stud flock 4714
Our property identification code is NA552894
All sheep are born on Wattle Farm. * No sheep are terminal tag consignment sheep
Our sheep are regularly inspected and are foot rot free
Quality genetics are used from proven sire rams
All sheep on Wattle Farm are gudair vaccinated
All sheep are routinely drenched
Treatment with Clik, Clik Plus, Magnum and Vetrizin is undertaken at shearing / marking and crutching and at other times as the seasons require.
We are brucellosis accredited free flock (Y.500)
Lamb plan figures available for all stud pogeny
Free replacement guarantee (terms apply)
Deliveries available for 8 rams or more in the local Riverina or South West Sydney areas
At Wattle Farm Border Leicester Stud, we declare that our stock must meet the highest possible standards as we cull heavily to ensure that only the best breeding stock is retained and only the best pogeny sold.
2016 Sale
Wattle Farm success rewarded
Significant success at the major sheep shows of Sydney, Dubbo, Bendigo and Melbourne was an important link to a very good result at the Wattle Farm Border Leicester 2016 sale at Temora.
Jeff and Diane Sutton and family penned a high quality offering of seven stud rams, 21 stud ewes and 71 flock rams that was appreciated by the gallery that included 30 serious repeat and new bidders.
It certainly wasn't easy though as the atrocious weather with flooded and closed roads really threw up a big challenge for prospective buyers to get to the sale, and for the Sutton family to be able to present their stock in good order.
The fact that they achieved that standard, combined with everyone in attendance being there with determined intent ensured a good result.
At the completion of the sale catalogue, in a 98% clearance all bar one stud ewe and one stud ram had sold, plus an extra nine flock rams in reserve were also put through the ring and cleared.
Through the flock ram section this was a 7% lift in average price and a 30% lift in rams sold from last year's result. Post sale a further 17 flock rams cleared privately to cap off a wet, but very successful day for the Sutton family.
The seven stud rams were in top order and met good competition. The only one passed was under stud reserve, so will go back into the successful Wattle Farm breeding program. Repeat clients Tony and Julie Mutton and family, Tarcutta, NSW and operating through Landmark Wagga's David Coleman paid the $3250 top price for WF150225, sired by Coolawang 120037, the 2013 Adelaide champion ram. Backed up by a Lambplan Border$ index of 138, this ram impressed many at pre-sale inspections.
We particularly liked the ram's conformation, wool staple length and its strength of pedigree, Tony Mutton said.
The six stud rams to clear averaged $2437.50, down 8% on last year's average, but more significantly, four more were sold to ram breeding flocks.
The 21 stud ewes saw 20 clear to a top of $600, achieved three times, and average $445, up 7% on last year. Two loyal and long term supporters and buying accounts dominated the ewe buying. James Baker, JD Baker & Co, Wangaratta and buying though Landmark Wangaratta's Hayden Rogers, purchased eight to the $600 top and at a $406 average. He regularly purchases Wattle Farm stock.
Jim and Elizabeth Fletcher, Dry Plains in the Snowy Mountains of NSW also paid the $600 top twice and averaged $481 in also purchasing eight stud ewes for their 'Fletchers' stud flock. They have been purchasing from Wattle Farm for the past five years.
It was another long term Wattle Farm buying account that was the most prominent in the very even flock ram offering. Robert and Barry Clemson, Burcher, NSW purchased 14 rams, paying to $1800 and averaging $1414.They have strongly supported Wattle Farm from days well before the Sutton family held an annual sale, this year being their fifth such sale.
While loyal repeat clients dominated the top buyers' list in the three sale sections, new buyers this year added an extra level of competition. One of these was Craig Millynn from Grenfell. He wasn't prepared to play 'second fiddle' and successfully bid to the flock ram high of $1900 in securing four top rams at a $1350 average. Including the extra nine rams, in total 80 flock rams averaged $1255, up $85 on last year with 18 more selling.
Stud principal Jeff Sutton said post sale, It was great to see the sale supported by so many long standing clients, plus the most welcome new ones. It has been very difficult to get flock rams up with the cold wet weather over the last four months, and it is particularly challenging today; so the level of support and clearance was very humbling. It was certainly the best sale result we have ever had.
Sale Summary
6 of 7 stud rams sold to $3250 and averaged $2437.50
20 of 21 stud ewes sold to $600 (x3) and averaged $445
80 of 80 flock rams sold to $1900 and averaged $1255
Agents: Landmark and Shute Bell
Auctioneers: Peter Godbolt (Landmark) and Jason Hartin (Shute Bell)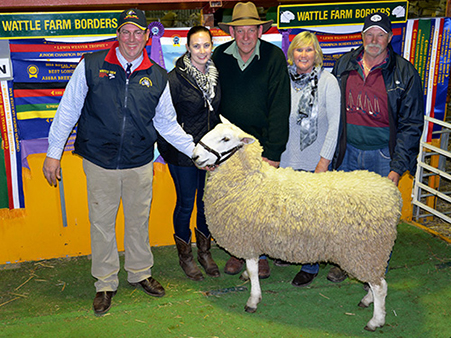 ---